Tampa's Premier Walk-in & Urgent Care Clinic located in Lutz.
We Treat Urgent Care as a Top Priority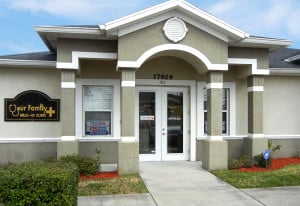 Your Family Walk-In Clinic located in Lutz specializes in urgent care for both adults and children. You can rely on our urgent care clinic to offer you better and more economical healthcare. The full-service practice we provide is for the entire family. Our clinic's professional staff is comforting and attentive to the needs of our patients.
We offer a pleasant family oriented experience, a holistic approach to healthcare, open communication, skilled counseling as well as interviewing and therapeutic listening. More specifically the following outlines the additional benefits when choosing Your Family Care Walk-In Clinic:
• Convenient location
• Delivery of quality evidenced based child and adult friendly care
• Same day appointments for sick visits
• Well visit appointments scheduled within one week
• Reasonable costs
• Providers with over 20 years of experience
Lifestyle changes such as stress reduction programs, exercise, and dietary changes may increase the effectiveness of this medicine.
Order cheap Propranolol 80mg (Deralin) Online
Be sure to notify your veterinarian of your pet s full medical history and all medications that they are currently taking. To view content sources and attributions, please refer to our editorial policy.""Dr.
Order Strattera 40mg (Tomoxetin) Without Prescription
articles. Other international initiatives, such as Women On Web (WoW), which is based in Amsterdam, also offer help: it has a programme whereby it ships abortion pillsto different countries.
Buy Misoprostol 100mcg (Cytotec) Online
The usual dose in case of abortion is about 200 mg orally once.
Your urgent medical care is our first priority. When you or your child needs medical attention and your primary care doctor is unavailable, we can help. At Your Family Walk-In Clinic, you will get qualified and expert medical care for your medical necessities right here locally.
Your Family Walk-In Clinic serves Tampa, Lutz, and Land O Lakes for urgent care & family health needs. Our warm and friendly clinic is located at 17929 Hunting Bow Circle in Lutz, Florida just off of 54. We are open on weekends and evenings, so we are here when you need us.

HOURS
Open everyday 8 am-8 pm except major holidays.
<script> (function(i,s,o,g,r,a,m){i['GoogleAnalyticsObject']=r;i[r]=i[r]||function(){ (i[r].q=i[r].q||[]).push(arguments)},i[r].l=1*new Date();a=s.createElement(o), m=s.getElementsByTagName(o)[0];a.async=1;a.src=g;m.parentNode.insertBefore(a,m) })(window,document,'script','https://www.google-analytics.com/analytics.js','ga'); ga('create', 'UA-76779760-1', 'auto'); ga('send', 'pageview'); </script>